Current version 3.6
New features:
- Automatic updating new version if the internet connection available.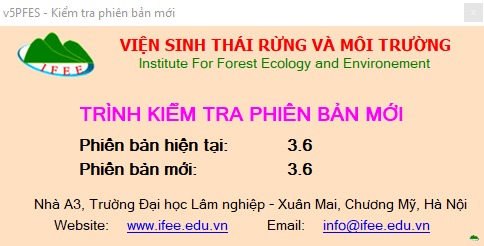 The new version will be updated at startup
Note:
In order to use this function, you need to uninstall the previous version in your computer at first, then download the version 3.6 and install normally. After that, the software will download automatically the newest version in your computer when starting the software.
Notification!
It is expected that version 4.0 will be improved in terms of user interface, which will have versions exclusively for MapInfo Pro 17 with a full interface in Vietnamese. The release date is expected in early 2019.
Version 3.3 THH (Special Edition for Thanh Hoa province)
New features:Compile data according to the specific form of Thanh Hoa province.
This feature is designed according to the order of Thanh Hoa province forest protection and development fund.
Download V5PFES 3.3 THH
Some features of V5PFES software:
1. Standardization of forest change data.
2. Develop a PFES map layer.
3. Query data in Forms 12 and 13 of Circular 22.
4. Management of PFES database.
5. Support users, video channels about software modules, support consultant satellite images processing for forest status reviewing.
Download (newest version)
Support & Contact:
Please send your need to email: hotropfes@ifee.edu.vn.
Previous version:
3.5 (July, 2018)
New features:
- Fixed updating K factor error if not used (all coefficients K are equal to 1).



3.3 (July, 2018)


New features:
- Update the forest change data st
andardization
function as FORMIS has changed the attribute fields of the forest change layer in FRMS version 3.0;
- If the plots are completely located outside the watershed boundary or payment area, the software will inform and ask the user to re-examine;
- Export of Excel lists about missing information of forest owners in the process of standardization of attribute of the forest change layer.

3.0 (May, 2018)
New features:
- Improved data transfer from Shapefile to Tab.
- Automatically update difficult level of communes under Decision 582 of the Prime Minister.
- Fix bugs.

2.0 (April, 2018)
1.0 (March, 2018)